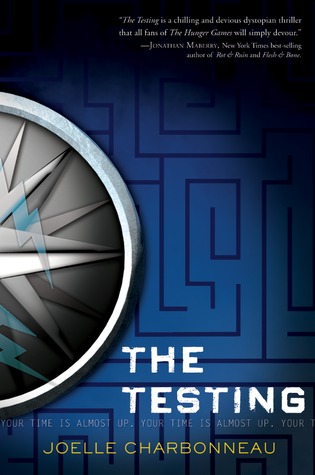 Synopsis:
"Keep your friends close and your enemies closer. Isn't that what they say? But how close is too close when they may be one in the same?
The Seven Stages War left much of the planet a charred wasteland. The future belongs to the next generation's chosen few who must rebuild it. But to enter this elite group, candidates must first pass The Testing—their one chance at a college education and a rewarding career.
Cia Vale is honored to be chosen as a Testing candidate; eager to prove her worthiness as a University student and future leader of the United Commonwealth. But on the eve of her departure, her father's advice hints at a darker side to her upcoming studies--trust no one.
But surely she can trust Tomas, her handsome childhood friend who offers an alliance? Tomas, who seems to care more about her with the passing of every grueling (and deadly) day of the Testing. To survive, Cia must choose: love without truth or life without trust." (Taken from;Good Reads)
Review:
The Seven Stages War caused great damage ravaged in the United States and now the leaders have a program for choosing potential leaders and specialists; The Testing
.

Cia, a young teen who lives in an outlying colony called Five Lakes, has been interested in being part of this program for as long as she can remember. When her hopes come true she goes through some of the most brutal, demanding, and nerve-wracking series of events created to separate the strong from the weak.
During this tests she stars becoming suspicious of the program and the leaders of the country, she starts seeing the lies and malice behind everything. Cia also she makes a few friends and confronts her enemies. Throughout the book, Thomas is her principal constant.
Even though there was some romance between her and Thomas it didn't feel real. It was a little bit rushed.
However, Cia's character was impressive and likeable. She was really smart, warmhearted but not naïve, headstrong, observant, and down to earth. She felt real, like the typical and mundane type of person who has faith in herself but still doubts her first instinct.
I really enjoyed Joelle Charbonneau's writing style. The pace was steady and even though there was a lot of things happening in the book (which is a really good thing) I didn't find it overwhelming. Charbonneau also described their civilization so well, that you experience Cia's reality. The Testing mixes survival, conspiracy, friendship, and a little of romance. There are a fair amount of similarities between this series and "The Hunger Games", and other dystopian novels like "The Maze Runner", but don't let this stop you from picking this book up.