*I received a Digital ARC of this book from Harper Collins through Edelweiss for an honest review*
Publishing Date: March 10, 2015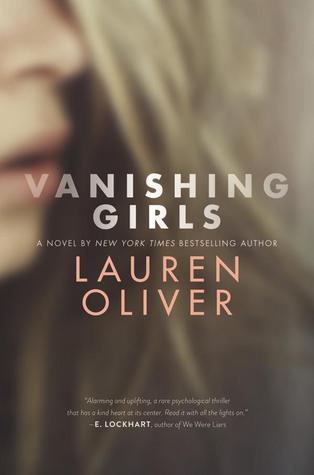 Synopsis:
"New York Times bestselling author Lauren Oliver delivers a gripping story about two sisters inexorably altered by a terrible accident.

Dara and Nick used to be inseparable, but that was before the accident that left Dara's beautiful face scarred and the two sisters totally estranged. When Dara vanishes on her birthday, Nick thinks Dara is just playing around. But another girl, nine-year-old Madeline Snow, has vanished, too, and Nick becomes increasingly convinced that the two disappearances are linked. Now Nick has to find her sister, before it's too late.

In this edgy and compelling novel, Lauren Oliver creates a world of intrigue, loss, and suspicion as two sisters search to find themselves, and each other.

"Alarming and uplifting, a rare psychological thriller that has a kind heart at its center. Read it with all the lights on." -- E. Lockhart, author of We Were Liars.
" (Taken from; Good Reads)
Review:
Even though Nicole and Dara are sisters, they are practically best friends. That is until Dara starts getting wild and they get into a car accident, where Nicole gets blamed. After this, they decide to ignore each other and go on with their lives.
Thanks to their parent's divorce, Dara has to live with their mom and Nick with their dad. Due to constant and unwise decisions their dad decides to send Nicole to spend some time with their mom. They continue to ignore each other until Dara disappears during the day of her birthday. But she isn't the only one, a little girl, Madeline Snow, also disappeared. Nick is desperate and she starts doing everything in her power to find her sister. During this process, she can't help but think that both disappearances have something in common.
When I started reading this book I got the impression that it was going to be a contemporary read but then it became mysterious and thrilling. The ending of this book was OUTSANDING, I really wasn't expecting what happened.
Another thing I really liked is the development of the characters and how Lauren Oliver gives us some of Dara's thoughts. Even though most of the book is in Nicole's point of view, we get an entrance to Dara's diary.
For those of you who are wondering if there is any romance in the book, there is some but the book is centered on the relationship between Nicole and Dara.
This book was so much more than I expected. Lauren Oliver never fails to amaze me, her writing style is so beautiful and compelling, it's almost unbelievable. I must say that this is my favorite book from her so far. I really liked it and found it impossible to put down.

Rating:
4/5
_________________________________________________________________________________