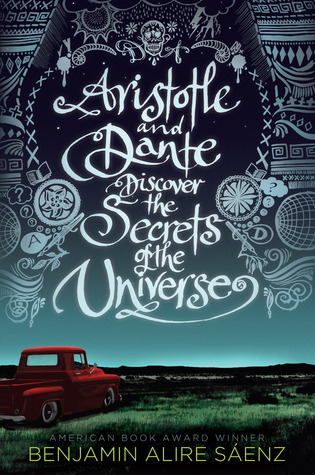 Title: Aristotle and Dante Discover the Secrets of the Universe
Author: Benjamin Alire Saenz
Release Date: February 21, 2012
Pages: 368
Genre(s): YA, Contemporary, Realistic Fiction, GLBT
Publisher: Simon & Schuster
Source: Bought
Synopsis:
"

A lyrical novel about family and friendship from critically acclaimed author Benjamin Alire Sáenz.
Aristotle is an angry teen with a brother in prison. Dante is a know-it-all who has an unusual way of looking at the world. When the two meet at the swimming pool, they seem to have nothing in common. But as the loners start spending time together, they discover that they share a special friendship—the kind that changes lives and lasts a lifetime. And it is through this friendship that Ari and Dante will learn the most important truths about themselves and the kind of people they want to be." (Taken from;
Good Reads
)
"Aristotle and Dante Discover the Secrets of the Universe" is a book not only about the self exploration of identity and sexuality, but a smart, compelling, and deep story that employs the different aspects of life.
The elements on this book are shown in such a rough and realistic way, written with a perfect combination of skill and care for the story, that increases, even more, the essence of the book.
What can I say? This was a unique and poetic read. It was entertaining, well written, and mind blowing, as well. I love the way it deals with controversial and important topics. In my opinion, this is what every book should be like.
Favorite Quote(s):
"I don't understand how you could live in a mean world and not have any of that meanness rub off on you."
"Sometimes pain was like a storm that came out of nowhere. The clearest morning could end in a downpour. Could end in lightning and thunder."
"Why do we smile? Why do we laugh? Why do we feel alone? Why are we sad and confused? Why do we read poetry? Why do we cry when we see a painting? Why is there a riot in the heart when we love? Why do we feel shame? What is that thing in the pit of your stomach called desire?"