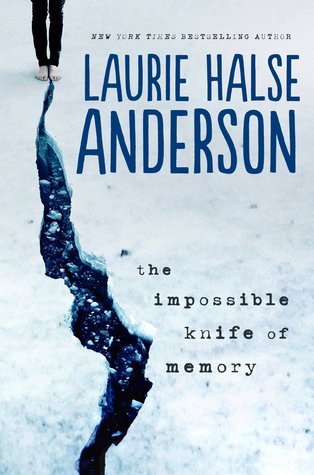 Sypnosis:
"For the past five years, Hayley Kincain and her father, Andy, have been on the road, never staying long in one place as he struggles to escape the demons that have tortured him since his return from Iraq. Now they are back in the town where he grew up so Hayley can attend school. Perhaps, for the first time, Hayley can have a normal life, put aside her own painful memories, even have a relationship with Finn, the hot guy who obviously likes her but is hiding secrets of his own.
Will being back home help Andy's PTSD, or will his terrible memories drag him to the edge of hell, and drugs push him over?
The Impossible Knife of Memory
is Laurie Halse Anderson at her finest: compelling, surprising, and impossible to put down." (
Taken from; Good Reads
)
Review:
Hayley Kincain and her dad, Andy have been on the road for five years. They move to Andy's home town so Hayley can attend High School.
Hayley adapts pretty easily to the school and to the people in it, thanks to her best friend who is also her neighbor. There she meets Finn, a cute flirty, smart pants guy who is very interested in her from the beginning, but she is focused on other things. She is focused on her dad and his PTSD.
This book is heart breaking and not in a romantic kind of way (even though it has lots and lots of romance). It shows you the heaviness of problems in a realistic way. It talks about addiction and family problems and how they affects teens. Regardless of its heaviness it was well written and enjoyable.
Rating:
_____________________________________________________________________________