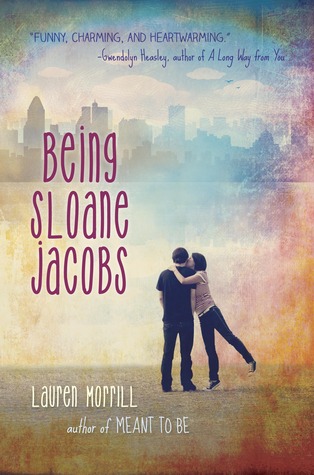 Synopsis:
"Meet Sloane Emily Jacobs: a seriously stressed-out figure-skater from Washington, D.C., who choked during junior nationals and isn't sure she's ready for a comeback. What she does know is that she'd give anything to escape the mass of misery that is her life.
Now meet Sloane Devon Jacobs, a spunky ice hockey player from Philly who's been suspended from her team for too many aggressive hip checks. Her punishment? Hockey camp, now, when she's playing the worst she's ever played. If she messes up? Her life will be over.
When the two Sloanes meet by chance in Montreal and decide to trade places for the summer, each girl thinks she's the lucky one: no strangers to judge or laugh at Sloane Emily, no scouts expecting Sloane Devon to be a hero. But it didn't occur to Sloane E. that while avoiding sequins and axels she might meet a hockey hottie—and Sloane D. never expected to run into a familiar (and very good-looking) face from home. It's not long before the Sloanes discover that convincing people you're someone else might be more difficult than being yourself." ( Taken from; Good Reads)
Review:
Sloane Emily Jacobs, daughter of a Senator, lives in Washington D.C. and comes from a family of power and money. Her family is a little messed up, her mom is the definition of perfect and her brother is the contrary. But she just wants to get away from it all, including
seeing her father and his secretary in a compromising position,
and have a nice life. Sloane is an ice-skater who has to much pressure in her shoulders.
Because of the elections, her family decides to ship her off to a skating camp in Canada. This way she will get better as a skater and her family would be perfect.
Sloane Devon Jacobs is pretty much the opposite of Sloane Emily. She is a rough hockey player with many problems, including anger management and performing anxiety, which keeps her from scoring. For her, this is horrible, because a hockey scholarship is her only way to get out of town. She need to get over this fear and her only choice is going to a hockey camp in Canada.
Then they meet each other and realize that they are both running away from their problems so they decide to switch lives for the rest of the summer.
This isn't my favorite book by Lauren Morril but I liked it. It was full of every day problems and a bunch of cute romance. I really liked every single character, there were unique in their own ways and the author made every single one of them special. I think i'm going to start calling Lauren Morril "The Queen of Contemporary Romance".
Rating: